Join Us for
Creative Practice Circle
making • time • together
Cultivating a Creative Practice means we must fit it into our already busy and full lives. We have to find the time. Commit and show up. Again and again. That can end up feeling overwhelming, even when something in our creative soul desires and needs just this: to commune in the process and rituals of creative freedom, play and expression.
It's so easy to push this aside until later in a day, and then end the day realizing that, once again, we skipped over a thing that helps us feel more wholly like ourselves, more present and alive.
Finding and taking time for Creative Practice is one of the biggest struggles creative souls express about getting to the creativity that fills them back up for the rest of life. As is connecting with other creatives who get it.
So let's do it gently, together.
To remember with our heart-minds and belly-souls, in space and time, that we learn who we are in practice… and that being together with a shared commitment to this sometimes makes it easier to nourish and bring to life what we long for.
Creative Practice hour
Making art or working on creative projects.
With a circle of kindred creatives who get
that this matters in ways we may not be able to explain,
but can most certainly feel in our hearts,
in our quality of life, and sense of well-being.
Join us - with your art journal, art challenge projects, paintings, craft projects, doodle books, lessons-in-process from art classes you're in, and a cup of your favorite beverage.
We will center & reflect/journal briefly via a prompt, then parallel play with our own Creative Practices, and chat+share as we feel called.
Most importantly, by showing up, we are strengthening and saying to our creative soul: This matters, this time making, and being with others who also feel called to create. I know that. I feel it. And I'm here for it.
THIS CIRCLE IS FOR YOU IF you…
are just starting, reviving or cultivating a Creative Practice

have a little or a lot of creative/art experience

have a project in mind, or no idea at all what you'll focus on with your time in circle

have tried a practice before but failed to keep at it

are craving a little fresh energy or dedicated time for your Creative Practice

are just called to the warmth of a supportive gathering of creative kindreds
RECEIVE:
RECEIVE the Gifts of MAKING: Nourish your Creative Practice in a no-pressure, come-as-you-are, make-what-you-want way. Your project or intention for each circle could be inspired from a class, challenge, or any art, painting, project in-process, or appraoch that you keep meaning to get back to. OR, you can just show up with your intuition and a commitment to move some color, doodle spontaneously, or otherwise let your creative spirit play freely.
For instance: I like to work on spontaneous painting starts and mixed-media backgrounds, art journal finishing touches, collage and doodles, and small intuitive drawings and dreamscapes during our Circle hour.
RECEIVE The power of dedicated TIME: Finding and taking time for our practice in our busy lives is one of the biggest struggles/obstacles expressed to me by students and creative kindreds. When you schedule it in, you are saying to your soul that this is important to you - and you are relieving yourself of the constant pressure to try to GET TO IT (later). And then, by showing up to the Circle hours (either live-online or watching the replay later), you have given yourself one hour every couple of weeks - like a coffee art-date to keep you engaged in a creative mindset for the rest of your week. And it's a funny thing… when we give a little time to what gives us energy, we often find a little more time and energy in ways we didn't see or feel before.
Just one hour a week keeps on giving, I promise!
RECEIVE Encouraging Support, TOGETHER: We creatives need each other to encourage our creative spirits to keep going in the face of life's responsibilities, monotony, or overwhelm. To not feel so solitary in pursuing time for our creative passions and interests. Come share ideas, struggles, giggles, a-has, things you're loving, things you're not… or just show up and be with, whatever mood you find yourself in, and with whatever energy you have to give - or not give. Coming together also gives gentle accountability to nourishing the Creative Practices that bring you respite from worries or situations, a sense of well-being and your special spark of joy+vitality. Plus, connect with each other as you like in-between our circle dates in our private fb group.
THE CIRCLE DETAILS:
The Creative Practice Circle hour is now an ongoing offering available through my Patreon Creative Practice Community (at the River-Keeper tier - just $12/month with other rewards). I love these circles - and I'm so happy to get to hold space for them!
WHAT: A live-online Creative Practice Circle with simple journal reflections to center you in your creative energy and truth, and dedicated time to parallel play/practice while connecting with others also called to creative expression and soulful awareness.
WHEN: currently happening live-online TWICE A MONTH, on alternating Wednesdays, from 1-2pm eastern (but you can watch the most current replay between circles if a different time suits you better). The current schedule is over on my Patreon page.
WHERE: In the Hali Karla Arts "Zoom Room," from our respective locations. You can join on your computer, tablet or phone with video, or by calling in if that works better for you.
LIVE vs. RECORDINGS: I will record each circle session, but do encourage you to attend as many circles live-online as you can to be part of our supportive community experience in real-time! The warmth and connection does transmit quite well in these sort of gatherings though - even in the replays! Replays will be available on a rotating basis - the most recent one available within 24 hours of the circle usually.
COMMUNITY CONNECTION: Outside of our circle times, we can connect, share and encourage one another via an optional private Facebook group each week.
YOUR GUIDE: Naturally drawn to creative expression my whole life, and as a formally trained artist, I have kept some iteration of Creative Practice as long as I can remember. Sometimes for process, sometimes for 'product' or project, sometimes for joy or connection, and sometimes for healing, discernment and navigating times of transformation or loss. Through it all, Creative Practice has been a loyal "chameleon" companion and witness.
I am always excited and honored to listen, support and encourage others in their cultivation of a dynamic, life-giving relationship with Creative Practice.
$12/month
no obligation
You will also receive all the other rewards and perks of being a patron at the River-Keeper tier!
Enjoy this video, if you likE -
part Creative Practice encouragement, part invitation to the Circle:
Note: this video was originally for a one-time 8 week circle -
but that circle inspired & led to this ongoing offering, and so it mostly still pertains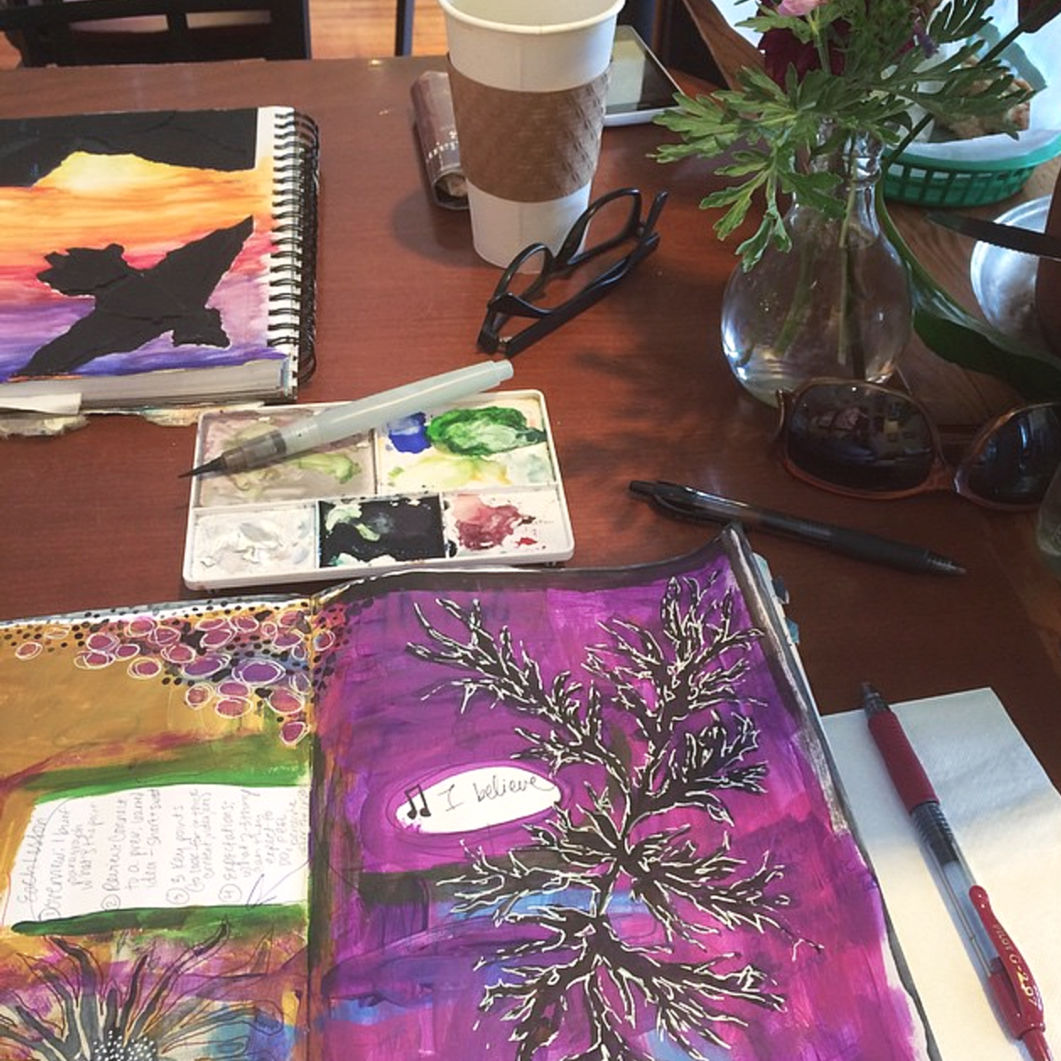 I know there is strength in the differences between us. I know there is comfort, where we overlap.
Kind Words from participants in previous offerings: